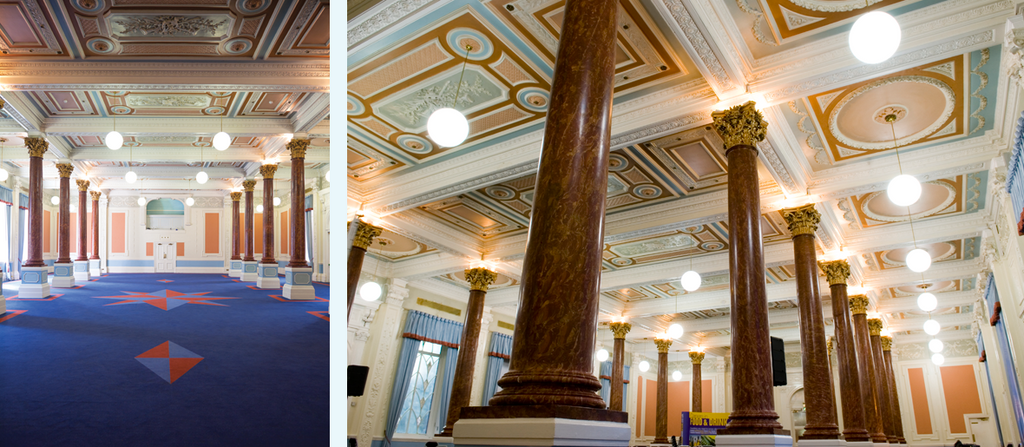 A Press release, Olympia London
        London International Antique Doll, Teddy Bear and Toy Fair
                  Saturday November 19th and Sunday 20th 2016
                                   200 years of Childhood
                                             1750-1950
                            The Charming Pillar Hall, Olympia
200 YEARS OF TOY HISTORY COME TO OLYMPIA LONDON'S PILLAR HALL FOR NEW ANTIQUES SHOW EVENT
Rare and precious antique dolls, teddy bears, and toys will be on show at Olympia London's Pillar Hall as part of a unique new exhibition which will look back on 200 years of childhood (1750 to 1950); the first time for over 15 years that a show like this has been purely devoted to antique/vintage items. The inaugural London International Antique Doll Teddy Bear and Toy Fair, taking place next year on 20 November, will bring antique doll and dealers, experts, collections and talks; the opportunity to buy rare toys at the venue's ornate Corinthian pillared hall space.

The one day show will be opened by Bunny Campione; familiar to many from her appearances over the last 20 years on the BBC Antiques Roadshow. Bunny is an international renowned expert on dolls, dolls' houses and soft toys; having spent her career at Sotheby's and Christie's.
The event will attract major dealers and collectors from all over the world including Sue Pearson - bears, David Pressland - tinplate toys, Eric Petit - bears from France and Rachel Gotch - dolls. Passionate investors from countries such as Japan, Germany and the USA, where some of the highest prices have been paid for antique dolls, toys and teddy bears, are expected to make the journey to Olympia London to peruse the finest toys to expand their collections.
Visitors who want to see the exhibits, from affordable to thousands of pounds, will be able to explore the show for just £5.

Organisers, Daniel Agnew and Hilary Pauley said: "We're delighted to be bringing the first London International Antique Doll, Teddy Bear and Toy Fair, to Olympia's Pillar Hall.  It's a beautiful, enchanting space right in the middle of west London and couldn't be better placed for international visitors to reach as well as providing a charming antique setting for the exhibition."

Nick Graham, Head of Sales at Olympia London said: "We host a plethora of events at Olympia London and are able to offer a range of spaces to suit their needs. The Pillar Hall, which is our smallest events space and one of our most special, will look wonderful filled with these amazing artefacts from toy history."
London International Antique Doll Teddy Bear and Toy Fair website will go live from end of September at www.200yearsofchildhood.co.uk. 
About the organisers of London International Antique Doll Teddy Bear and Toy Fair

Daniel Agnew is probably best known for running Christie's famous teddy bear auctions. He joined the toy department at Christie's and advised and helped set up the first Teddy Bear auction in 1993 and organised their last sale The Stratford-upon-Avon Teddy Bear Museum in 2007. In 2010 he sold the Paul Greenwood collection 'Steiff: An Important Private Collection', for an impressive £1,000,000! He now runs a Teddy Bear and Doll business via his website www.danielagnew.com and organises two auctions a year with Special Auction Services"
Hilary Pauley has been CEO of a group of companies including private schools for many years. She runs the teddybear-museum http://www.teddybear-museum.co.uk. an on line museum or archive of bears to help collectors or those interested, to identify the make, type and date of bears and form a pictorial history of bears through the first half of the twentieth century, from the 1900s to the 1950s.
About Olympia London
Olympia London is more than an exhibition venue, conference centre and live-event space. It's an inspiration. Against a backdrop of grand Victorian architecture, the seven connected spaces inspire engagement and enjoyment.
The recent £45 million refurbishment provides world class facilities for visitors and new-found flexibility for events of every size, bringing modern facilities and British heritage together.
Contact:-
E-mail - Daniel Agnew daniel.agnew@hotmail.co.uk or Hilary Pauley -  hap@mkps.co.uk   mobile 07875874854 or 01908642111 or 01908240464
website www.200yearsofchildhood.co.uk